About this time of year when I was a teacher, I was starting to take down my posters and bulletin boards. I had the time at the end of school to look at my walls and decide my decorating plan for the next year. I made a quick sketch of my room and could then spend the summer making those crucial decisions. Now, secondary school teachers (I am talking to you, Jennifer Bergland) might not be able to relate, but I know my elementary educators know what I am talking about.
The classroom posters included in this blog can be used for special months of celebration or hung all year long. Take a look as all are free and the only cost to you is to print them off.
Pass It On Classroom Posters
The Foundation for a Better Life is a nonprofit organization founded in 2000. They are best known for their "Pass It On" campaign which offers inspirational messages. You might have seen or heard their messaging on television, radio, and billboards. Teachers may download and print the billboards at 8.5" x 11" poster size. Many citizens and celebrities are featured doing amazing work for humankind. Celebrities include: Nelson Mandela, Mia Hamm, Whoopi Goldberg, and Garth Brooks. Citizens are: Brooks Dame (donated bone marrow), Alex Scott (raised $1M to fight cancer, including hers), Oral Lee Brown (sent 19 kids to college), and Joshua Williams (started a nonprofit at age 5, fed 20,000 so far)
---
STEM Role Models
Women You Should Know (WomenYSK) provides a set of eight racially and ethnically diverse female scientists and mathematicians from around the world. The poster set was drawn by female illustrators and is available in eight languages. Selections include: Dr. Hayat Sindi, Tu YouYou, Rosalind Franklin, and Juliana Rotich
---
One World Posters
Teaching Tolerance was founded by the Southern Poverty Law Center in 1991 to eradicate hate by fighting intolerance in schools. Their work has evolved in the past 30 years, so they have chosen a new name: Learning for Justice. They are still working on reducing prejudice to tackling systemic injustice. One of their best resources are the One World posters. More than 30 are available in high resolution 11" x 17" poster size. Download the PDFs and print off a selection for your classroom. Selections include: Toni Morrison, Laverne Cox, Frida Kahlo, Fred Rogers, and John Lewis
---
March for Science Posters
Amanda Phingbodhipakkiya has created six custom posters to help celebrate both women and science. The posters are free to download here. Selections include: Katherine Johnson, Chien-Shiung Wu, Maryam Mirzakhani, and May-Britt Moser
---
Department of Energy Classroom Posters
The Department of Energy has 12 free printable posters of women who have made notable contributions to American history. Included in the set are female astronauts, physicists, mathematicians, and chemists. Find the sets here to download. Selections include: Hedy Lamarr, Barbara McClintock, Ellen Ochoa, and Ruby Hirose.
---
Black History Month Posters
Jen Bengel has shared her daughter, Malaya's, art work with a set of free posters available at the Teachers Pay Teachers marketplace. There are 15 prominent African Americans. Each person has two posters; one has a quote and the other one has the contribution of the individual. Selections include: Sojourner Truth, Crispus Attucks, Coretta Scott King, and Shirley Chisholm.
---
Kid President
Kid President has a series of YouTube videos and has been a positive influence on students and teachers. The online platform, We Are Teachers, has pulled together several Kid President quotes. Find the five free printable posters here. Selections include:
If you can't think of anything nice to say, you're not thinking hard enough.
Life is tough, but so are you.
Give the world a reason to dance.
Be somebody who makes everybody feel like a somebody.
The time to be awesome is now.
---
Growth Mindset Classroom Posters
A set of six Growth Mindset posters are available from We Are Teachers. They promote positive thinking and a can-do attitude. Selections include:
I can learn from my mistakes.
I can do hard things.
First Attempt In Learning.
Mistakes are expected and respected.
It's not failure because I haven't given up yet.
I can't do it . . . YET.
---
Women's History Posters
Mike Rawls shares 41 minimalist images of iconic women. They include figures in politics, sports, activism, and entertainment. Download the complete free set here. Selections include: Alexandria Ocasio-Cortez, Taylor Swift, Simone Biles, and Temple Grandin. There are newly added posters of Kamala Harris and Amanda Gorman.
---
Earth Day Posters
Since 2010, NASA has celebrated Earth Day with the release of a gorgeous illustrated poster. The high-resolution printable PDF files are available for download from the NASA website.
---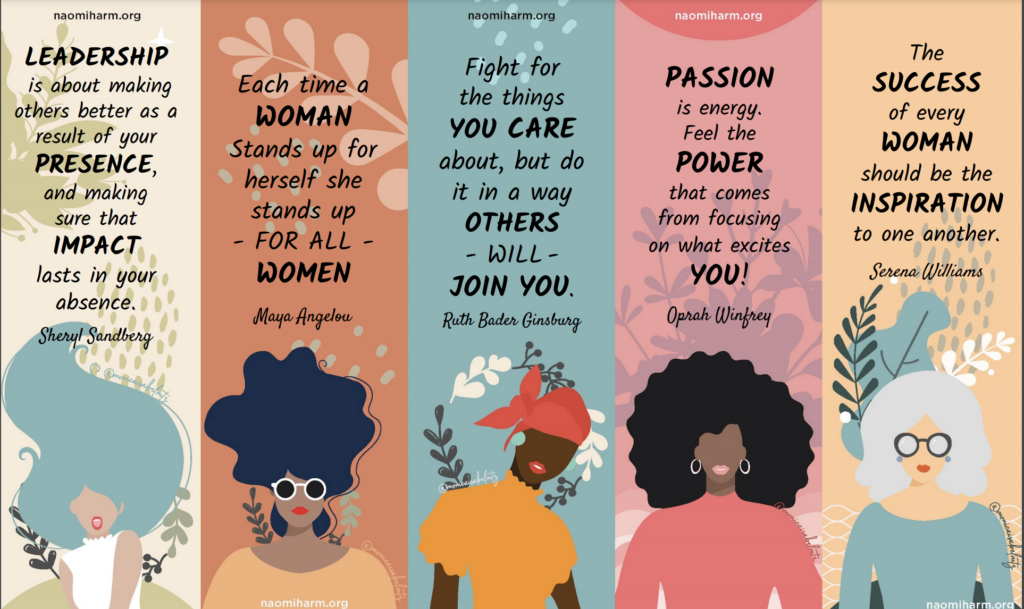 Bonus: Very Cool Bookmarks
Naomi Harm is the founder and CEO of Innovative Educator Consulting. Download her printable bookmarks to celebrate women during Women's History Month or anytime. Selections include: Sheryl Sandberg, Ruth Bader Ginsberg, Oprah, Maya Angelou, and Serena Williams.
---
If you run across a great set of free classroom posters, please email Peggy at preimers@tcea.org and I would be happy to spread the poster love. Happy decorating!
---