Whether you consider yourself a Canvas LMS (Learning Management System) expert or a novice, it's always good to learn more. Today, we'll focus on great add-ons and extensions for the Chrome browser that can help to close the gaps in the Canvas LMS.
Note: The feature image shown is a view of my Canvas LMS using the Power + Chrome browser add-on. Intended for students, "Power+ makes it easy to know what you have to get done at a glance and see recent grades and announcements on the dashboard."
Gap #1: HTML Editor
In a previous blog entry, I lamented that Canvas lacked a top-notch HTML editor. While it enjoys a GUI interface, I find myself hunting for more features. One Chrome extension that caught my attention is CanvasTools which describes itself in this way:
CanvasTools is an advanced set of tools. It allows you to customize the way that Instructure's Canvas looks. You can do advanced things with your Canvas account.
CanvasTools has these features:
Customize your colors
Message students from any tab
Receive a notification when someone messages you
Download Canvas modules offline
Submit files as assignments by right-clicking on them
Add custom elements to your content using the Editor
Search through your pages, courses, groups, and assignments using the Chrome omnibar
Add a Mark All Read button to Conversations
Auto-login to Canvas
Integrates with the Canvas API
Use the editor to add custom buttons, badges, and more to your posts
Set a footer with ease. Use the CanvasTools editor and then copy and paste it by right-clicking in Canvas.
As I played with CanvasTools, I liked the feature that allows you to download an entire module. Unfortunately, that is a premium feature you have to pay for.
The most useful aspect of the tool was the Canvas Editor which allows you to edit views and files via HTML. The Canvas Inbox editor might be a worthwhile improvement, but I didn't use it much in the time I had it installed. Many of the CanvasTools features appear superfluous to the Canvas LMS built-in tools.
If you want to learn more about Canvas, take a look at our online, self-paced course on the LMS. Earn your Canvas certification as you master the system's features, best practices, creating a course, and more, all for just $29.
Gap #2: Grading
If you've had to do any grading in Canvas, you know what a pain it can be. Even with SpeedGrader, things can be a bit cumbersome. Enter Canvas Betterizer. It offers these improvements to SpeedGrader:
Focus and select the student grade
Hit enter to submit the grade and move on to the next student
Save comments that you type often and pull them from a dropdown box to make grading even faster!
Hit enter when typing a comment to submit it
This particular Chrome extension also works to make the Canvas Inbox work for you. You can see the Canvas Betterizer improvements on SpeedGrader in the screen capture below:
Canvas Betterizer does make grading a little less of a pain with the ability to save and insert comments. Give it a try.
Gap #3: Student View
To access Student View in Canvas, you have to navigate to the course Settings page. Then, you click on STUDENT VIEW on the far right hand side. This can be a pain when designing courses. The Canvas Quick Student View Chrome extension makes the switch easy. As you can see in the screenshot below, the Canvas Quick Student View adds a spectacles icon in the top right-hand corner of your screen.
After you click that spectacles icon, you switch the course to student view. What a time-saver.
I recommend this Chrome extension since it will save you a few clicks. That can make all the difference when you want to view your course in student view.
The next two gaps are ones that students encounter. But luckily, there are two Chrome extensions that can ease the pain of navigation and working late at night.
Gap #4: Course Navigation
Are you a student or instructor needing to navigate many Canvas courses? Then the Canvas+ Chrome extension can make the job easier. This simple tool adds a navigation menu at the top of your screen so you can leap from one course to another. Click your way through your courses without visiting the Dashboard again. For some people, this is a godsend because it makes navigation so much easier and faster.
As you can see from the screenshot above, Canvas+ adds a list of tabs for every enrolled course. This makes jumping from course to course easier. And Canvas+ makes it easy to rearrange the tabs for your convenience. So if you are editing two courses at the same time, you can have those two next to each other in the tabs. Fabulous!
Since my account is enrolled in quite a few courses, my tabs are a bit compressed. Give it a try as a teacher or student if you have fewer than twenty courses to flip through.
Gap #5: Dark Mode for Canvas
If you are working late at night or prefer a dark background on your device, the Dark Mode for Canvas extension may be what you are looking for. You can see what it does in the screenshot below:
This was the only dark mode tool I found that worked for Canvas, although there were others listed.
Bonus Extension: Better Canvas
This all-purpose Canvas enhancement offers several great features, including dark mode setup. Better Canvas offers these features:
Dark mode
Quick view assignment list
GPA calculator
Link preview button
Gradient dashboard cards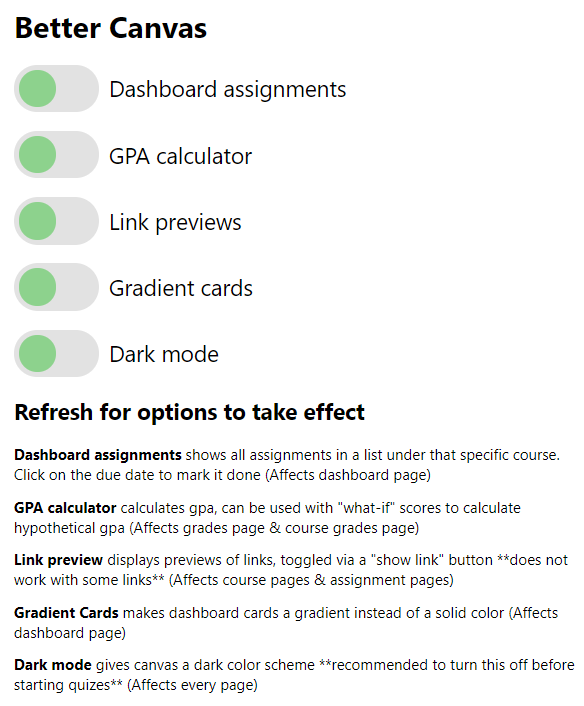 You can turn features on or off through the drop-down extension panel.
While no browser extension can make the Canvas LMS perfect, you may find one or two tools that save you time. My top two favorites are the student view and course navigation extensions. Give them a try.
Feature Image Source
Photo by Pawel Czerwinski on Unsplash
---