Earlier this spring, a report commissioned by the Audio Publishers Association found that, for the first time, half of all Americans have listened to audiobooks. Like many technologies, audiobooks, and their cousin, the podcast, are making their way into the classroom.
Recent research on the use of audiobooks on education is limited. A 2016 study found that those who received a lesson through audio did not lag behind those who heard and read the audio. Some researchers also point to the notion that the human brain is designed to interpret aural information first and foremost. A 2012 study published in the journal School Library Research noted a positive impact through the use of audiobooks for struggling readers. As the study summarized:
The findings indicated that struggling readers' use of audiobooks had a positive impact on reading skills and attitudes toward reading. These findings are significant given the dearth of research directly related to the impact of audiobooks, despite the prevalent usage of audiobooks.
Audiobooks carry the possibility of helping struggling readers, though they possess other potential limitations. It's difficult to grasp where you "are" in a text you're listening to. You lack the ability to highlight, re-read, or otherwise "go back" over a passage, at least not without scrubbing through the audio. Still, having multiple ways for students to interact with language learning is important to many educators, and audiobooks are one such tool. The technology is even catching on as a teaching tool at the higher ed level.
Ready to try using audiobooks yourself? Here are four great sources for free audiobooks for educators.
Free Audiobook Resources
LibriVox includes free, public domain works read by volunteers. Its collection also contains a number of plays, poetry, and a vast array of nonfiction, in addition to its numerous fiction titles.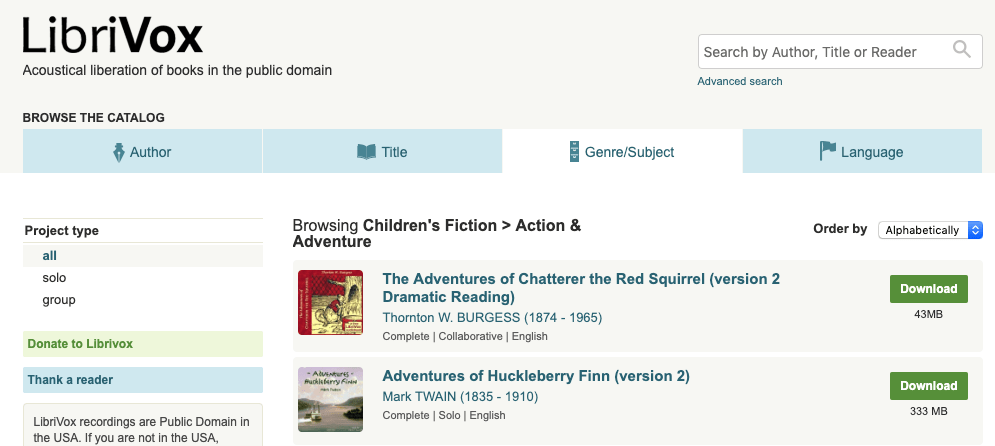 OverDrive allows readers to digitally "check out" ebooks and audiobooks through their local public or school libraries. OverDrive's Sora app is specifically designed to allow schools to set up accounts that students can use to download ebooks and audiobooks.

Loyal Books, formerly known as Books Should Be Free, offers many classics in ebook and audiobook format.

Storynory is all about children's audiobooks, from fables to educational titles and beyond.


Photo: Alireza Attari
---