None of us like to be told what to do all of the time. We like to have the freedom to make our own choices once in a while. And that's just as true for students of all ages. It's just one of the reasons why choice boards are an excellent tool to use for any subject. They allow each student to complete required content and have some say in either what else they learn or how they demonstrate that learning. For today, let's examine some great math choice board examples.
Choice Board Templates
Matt Miller (Ditch That Textbook author) has a wonderful Google Slides template for a math board. And it is great to see how these can best be structured. His template includes the following:
Vocabulary Activities – Choice of creating flashcards or create a sketchnote of vocabulary words
Display Options – After some direct instruction, students can practice what they are learning with an infographic, an anchor chart, or a Flipgrid video.
Check Your Understanding – Students can either answer questions on a Google Form or work several problems on Google Slides. This allows the teacher to see if any reteaching is needed.
Assessment Options – Finally, once the unit is over, the student has the choice of taking the assessment on paper or using Google Forms and getting immediate feedback on right and wrong answers.
Tara Dusko created these choice boards for third through fifth grades in multiplication, division, and geometry. They look more like what I think of when the phrase "choice board" is mentioned in that they have the standard nine squares. Her directions on the boards don't specify which ones students must do and which ones they can choose from, but you could easily add that element. Tara does offer a great choice board teaching tip– include a self-assessment scale to "provide students with an opportunity to reflect on the choice that they made, how working on that choice went, and what their next steps are."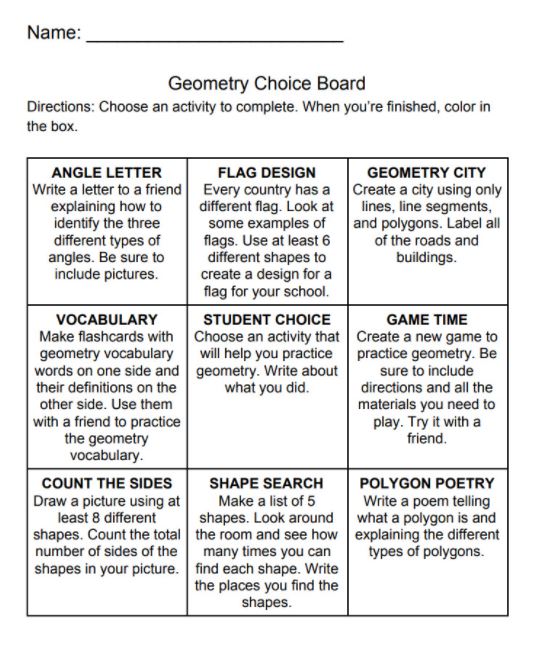 More Math Choice Boards
Choice Board Teaching Tips
Before letting students get started, be sure you tell them how long they have to complete the board. Will they work on it at home or only in school? How can they get help if they get stuck? Can they work cooperatively on any of the choices?
If it's the first time your class has worked in this fashion, limit the number of choices. Three seems to be a good starting number. You can add more as they become comfortable with this strategy.
Make sure that critical content that absolutely must be learned is a required item on the board.
To help students who struggle or may learn differently, have a variety of learning strategies as choices, from drawing to word play to creating a learning tool.
To learn more about creating your own choice boards and to discover more templates, check out these TCEA blogs on the subject.
And to receive a digital certification in all things choice boards, take a look at the TCEA online, self-paced course. You'll become an expert in this differentiation technique and receive 12 hours of CPE credit and a digital badge. The price is only $29. Your students will thank you!