Amazing updates recently announced will transform how you work with two popular G Suites apps, Slides and Gmail. Let's take a look at my favorite tool Slides to see some popular ways to record audio. One of the challenges is how to record audio and save it to Google Drive. In this blog entry, we'll explore those approaches, as well as take a quick peek at Gmail's upgraded features.
Inserting Audio into Slides
One of my most desired features for Google Slides has been the ability to embed audio.
Google's blog
announced it:
We have listened to your requests and are adding audio files as

additional

media types in Slides. We know that adding audio clips can bring your presentations to the next level.
If you look now (early April 2019), you may not see the option to Insert->Audio into a Slide. That's because the rollout will not become visible until later this month (before April 18).
According to what was written, you will soon be able to insert WAV or MP3 audio files into a slide. Follow these instructions taken from the
Google Help page
:
Select the slide that you want to add the audio file to.

Click Insert  Audio.

Choose an audio file and click select.
Recording Audio on Your Phone to Drive
Since you can insert audio files (MP3 or WAV) into Slides from Google Drive, how could you record and save to Drive? Here are two approaches using free apps for iOS and Android devices. In fact, I've used the Android app on Android-capable Chromebooks like the one I'm writing on to record.
iOS App Audio Recorder
On iOS, get the Voice Record Plus app. It's a free app that allows you to save audio recordings in WAV or MP3 straight to Drive. As their website reports:
Voice Record Pro is a professional voice recorder. It allows you to record voice memos and on-site sounds. Recordings are at unlimited length with configurable quality. Voice Record Pro can record in…MP3 (MPEG) and WAV formats (

source

).
Android App Audio Recorder
On Android, there are many apps titled 
Audio Recorder,
so
y
ou will want to get this free
Audio Recorder
app from Axet. This app makes it easy to record to various audio formats, such as OGG, WAV, M4A, and MP3.
Of the many formats available, MP3 and WAV are the two compatible with Google Slides. After recording, you can save the audio file in MP3 or WAV format to your favorite Google Drive folder. An added benefit of the Android app linked above is that it will work on Chromebooks that can run Android apps as shown below.
You are able to save audio recordings to your Files on your Chromebook and then place them on Google Drive.
Recent Gmail Upgrades
Need "quick access to a range of help and support content?" Then Gmail, along with other apps, will
soon enjoy a new support button
next to the search bar at the top of Gmail. You may have missed Smart Compose and one more update.
Smart Compose uses "machine learning to interactively offer sentence completion suggestions as you type, allowing you to draft emails faster. Building upon technology developed for Smart Reply, Smart Compose offers a new way to help you compose messages — whether you are responding to an incoming email or drafting a new one from scratch (
source
)."
An additional update you may find useful (I do!) is the "Write now, Send Later" option. This makes it easy for you to compose an email at 1:00 am in the morning, and, rather than send out the email at that early hour, schedule your email for an 8:00 am delivery.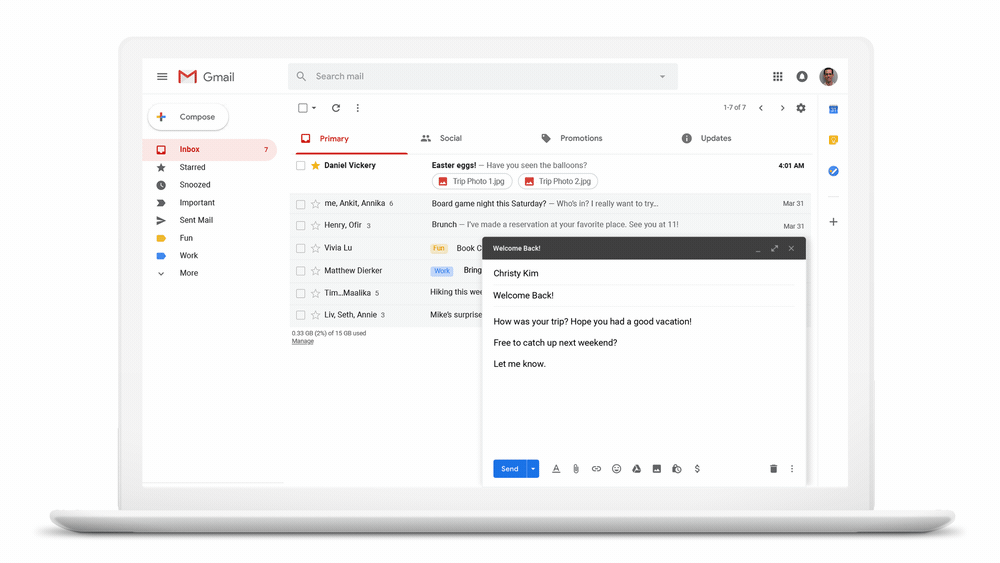 Google often updates its apps. Keeping up with those updates may seem a Sisyphean task, but these updates can enhance your productivity and provide additional ways for your students to showcase their learning. Take advantage of them!