Since I started using ChatGPT, I've been amazed at its capabilities. It has limitless potential for saving educators hours and hours of time. When I was in the classroom, I'd spend so much time online, searching for quality resources, activities, lessons, materials, ideas, and more to help me piece together engaging units of study for my students. I know other teachers who do the same and others who rely on teacher guides, workbooks, and more. The way I see it, ChatGPT offers the possibility to create resources for yourself, to further tailor and adapt resources you already have to better meet your needs and your students' needs, or to act as a brainstorming buddy for incorporating new activities and learning stations into lessons. Let's take a look at:
An editable prompt for generating a basic lesson plan with ChatGPT
The process in ChatGPT to see how it's done
An example ChatGPT-generated lesson plan.
Some extension prompts for further customizing lesson plan content.
A Template for Generating Lesson Plans
I do want to preface this by saying that I'm providing a very general prompt template, so you may need to edit it and tweak it for your needs. Additionally, you'll always need to review, edit, adapt, and adjust what ChatGPT generates. To me, ChatGPT offers a head start and a brainstorming buddy to get ideas from – but you're the expert responsible for the work.
That said, here is the editable prompt template I created for ChatGPT-generated lesson plans. Feel free to use this template with your own information to generate a lesson plan specific to your needs. In this template, I include the following in my requested lesson plan format, but you can edit these to include whatever is required in the lesson plan format at your school:
Objective
Standards
Pre-Assessment
Activities
Post-Assessment
Accommodations
Timing
To create a lesson plan with ChatGPT using the editable prompt template, you will need to provide the information noted in bold within the template:
Amount of time you have for the lesson
Grade level(s) the lesson is for
Skills or standards for the lesson
The concept or topic of the lesson
NOTE: You will need to closely review, edit, and revise the ChatGPT-generated lesson plan, as you are the expert and responsible party for all lesson planning and instruction you provide your students. No ChatGPT-generated content will be 100% perfect, but it still has the potential to save you tons of time!
Here is an example of what your prompt might look like when you customize it. In this example, I used several Grade 3 Texas Essential Knowledge and Skills for Science and asked for a 90-minute lesson. However, this prompt can work in any grade level and for a variety of content areas.
Here is what ChatGPT generated for me based on this prompt: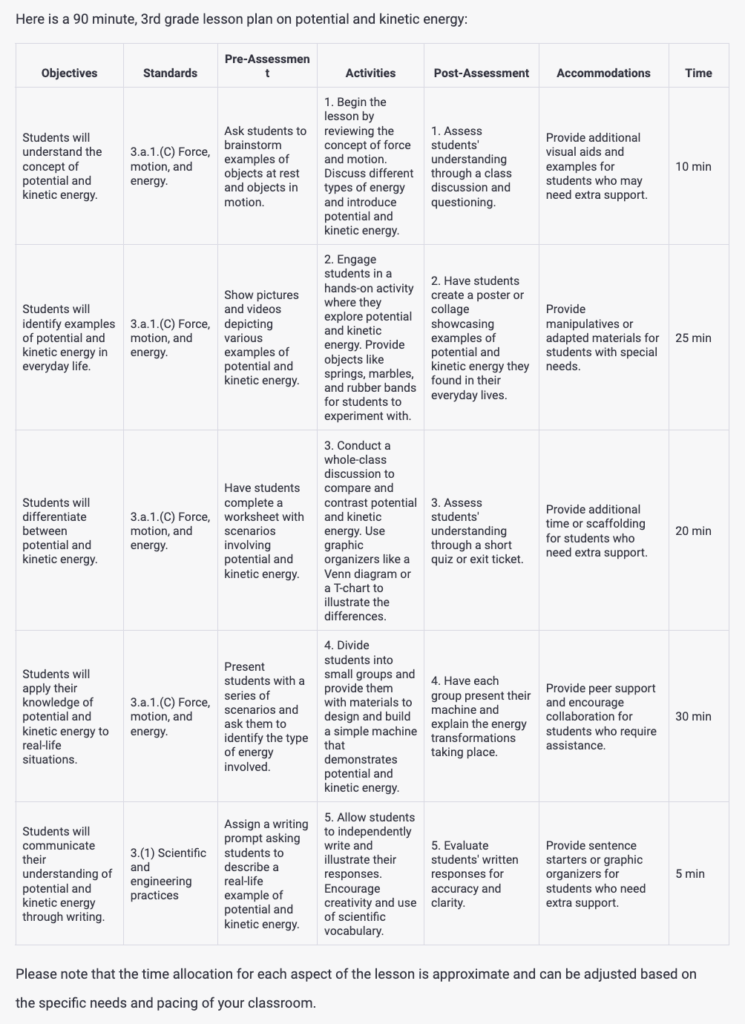 Additional Prompt Examples for Lesson Planning
Here are some prompt examples that you can use as-is, modify, or adapt to help you with lesson planning. Keep in mind that ChatGPT is going to reference materials, research, etc. from 2021 and prior.
English Language Arts/Literature:
Provide me with 10 activities for a Macbeth unit in 11th grade English class.
Show me 5 websites to support teaching informational text features in grade 3.
Generate the following for "The Scarlett Letter": 1. A detailed timeline of the story. 2. Character descriptions and motivations. 3. Major themes within the story.
Explain the difference between theme and main idea as if I am 7 years old.
List 15 picture books that can be used as mentor texts for narrative writing in 4th grade.
What are 10 activities for letter recognition for preschoolers?
Math:
Give me 10 activities for teaching grade 3 students about fractions.
Offer me 10 free resources for teaching preschoolers living and nonliving things.
Give me a step-by-step breakdown as if I am 5 years old for how to do division with remainders.
List 10 ways to differentiate mental math (addition and subtraction up to 10) for 1st graders.
Give me 5 activities for teaching 7th grade students scientific notation.
Science/Social Studies:
What are 10 ideas for teaching the engineering design process to 6th graders?
Give me 10 ideas for activities to teach biodiversity in 8th grade.
List 15 diverse inventors that would be good for a 9th grade research project.
Provide a detailed timeline of World War 1 for 10th grade students. Include primary sources for students to reference when possible.
Write 10 virtual scavenger hunt questions for 4th grade students to complete about the American Revolutionary War.
Differentiation/Accommodation:
Translate the following instructions to Spanish, French, and Arabic. [paste in instructions]
Rewrite this text in language that a 10 year old would understand. [paste in text]
Write easier versions and harder versions of the following math problems: [paste in math problems]
Make three lists of 20 vocabulary words for "The Giver." One set should be on a 4th grade level, one set should be on a 5th grade level, and one set should be on a 6th grade level.
Do you have any favorite prompts for lesson planning? Share them with us in the comments so we can all test them out. Have a great time experimenting with ChatGPT, and happy planning!