As educators, we are creative, innovative, and hardworking. But, let's be honest, we don't have time to reinvent the wheel. Therefore, templates are our friends. That said, I want to introduce you to one of my favorite digital design tools: Canva for Education. Why do I love Canva? Great question. I'll give you a few of the many reasons as I outline some ways I've used it as both a teacher and administrator.
What is Canva?
In short, Canva for Education is a creative, digital design platform. It offers templates, resources, and collaboration tools for creating and editing anything and everything from posters and flyers, to worksheets, presentations, and infographics.
Free Access to Photos, Graphics, Videos, and Audio
Canva is dedicated to providing educators free access to tools. For instance, with a free Canva for Education account, you can access:
More than 420,000 templates
Millions of images, videos, audio files, and graphics
Thousands of fonts
You can access more elements with a paid account; however, in my experience, a free account has most everything you could ever need. It is important to note that uploading your own images, videos, audio, and graphics is 100% possible in Canva.
Canva for Education Templates Galore
When I was a principal, I especially enjoyed creating certificates using Canva for bi-weekly, staff-nominated core values awards. But Canva isn't just for making certificates. Calendars, presentations, lesson plans, newsletters, worksheets, graphic organizers, certificates, flyers, and more are right at your fingertips. I showcase several examples of editable, pre-made templates in the infographic above, but I assure you, this doesn't even touch the tip of the iceberg.
Browse the education templates, search for templates using the search bar, or opt to create your own unique design from scratch. You can use a template as is, but you can also freely adjust, tweak, and edit a Canva template to make it yours. Once you've chosen or created your templates, you can reuse them time after time (and year after year). I've used many of their templates, as well as created my own, and Canva has yet to disappoint.
Here is a short, informative video on learning templates in Canva:
Click here to access the Teach with Canva tutorials playlist.
Collaborating with Teams
If you want to work collaboratively, you can absolutely share your templates and designs with whomever you'd like. Canva offers a view and edit option for sharing. You can create and share with a team, share with individuals, and even create groups within a team for sharing and collaborative editing purposes. Additionally, Canva offers a way to provide feedback notes on designs, and team members are notified of feedback via email.
Note: Canva is also a great tool to use with students, especially when it comes to project-based learning and practicing higher-level thinking skills. You can get started with classes in Canva by either importing your students using Google or Clever, providing them with an invitation link, or manually adding them to classes in Canva using their email addresses. Canva integrates with all the major virtual classroom tools (Google Classroom, Schoology, Canvas, and more). The feedback notes option is also available for classes in Canva; you can provide your students with feedback, and they can provide peer feedback to each other.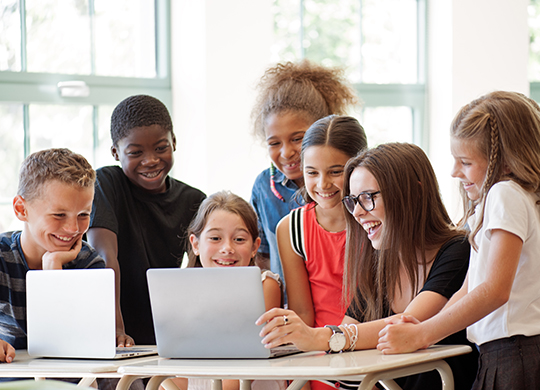 View a tutorial on how to collaborate with your team members in Canva here.
Edit PDFs with Canva for Education
Perhaps my favorite feature in Canva is their free, online PDF editor. Take any PDF, upload it, and make your own adjustments, additions, and edits. Even though PDF graphics can sometimes be affected, I have been very pleased with this tool. Not only can you upload PDFs, but you can also download and save your designs in PDF, JPG, PNG, MP4, or GIF format, giving you a lot of options.
Additional Resources for How to Use Canva for Education
I hope that you are inspired to try Canva for Education and that it is as useful a tool for you as it has been for me over the years. I'd like to leave you with links to two webinars highlighting ideas for using Canva in both elementary and high school classrooms. Have fun being creative and collaborative with this great digital tool, and feel free to share your own ideas or projects with us in the comments section below.
The Canva Classroom Webinar (Elementary)
Sparking Creativity Webinar (High School)
---