Back in April, 2016, I wrote about my first efforts with infographics for the art-challenged. Making infographics using Microsoft PowerPoint and Google Slides has gotten easier. In this blog entry, you will find a variety of take-and-make infographics templates in Google Slides, which means you'll be able to make copies of the Google Slides templates you like. Here are over 15 templates to get you started.
Get your own copy of this one (you'll need a free Gmail or Google Workspace account)
Finding Inspiration for Infographics
"What could I create that would make this more helpful to viewers?" I asked in my early attempts at crafting an infographic. The limits on my imagination kept me staring at beautifully designed infographics that shared statistical data. The process gets easier. Tell a story, create a compelling viewing experience.
There are many infographics online. You can get caught up in all the different kinds (like the example shown right). What you may not realize is that there are a wide variety of infographics.
Categories include:
Statistical
Informational
Timeline
Process
Geographic
Comparison
Hierarchical
Resume
Chart-centric
Let's take a closer look at what one of the expert infographic construction spaces, Venngage.com, has to say.
Types of Infographics
The folks at Venngage.com have created a gallery of infographics illustrating the different types of infographics. How cool is that? You can read The Top 9 Infographic Template Types. Their template gallery is quite inspiring. Below, you will find some of the infographics adapted from ideas they inspired.
As I explored their template gallery, I decided to see if I could remix the look of an infographic into a Google Slides or Drawing. Some of my early infographics were made with PowerPoint. The tool you use is up to you. Deconstruct these to use with students.
Make Infographics with Google Slides
Explore some of my infographics below. Can you guess which were my first attempts at an infographics? One of the hardest things for a non-artist is to match the colors; read this Canva blog entry. The more you play with Google Slides, the more fun it is to use the tools to get results closer to the high bar folks like Venngage.com and Infogram.com set. Here are a few creations; get them all online.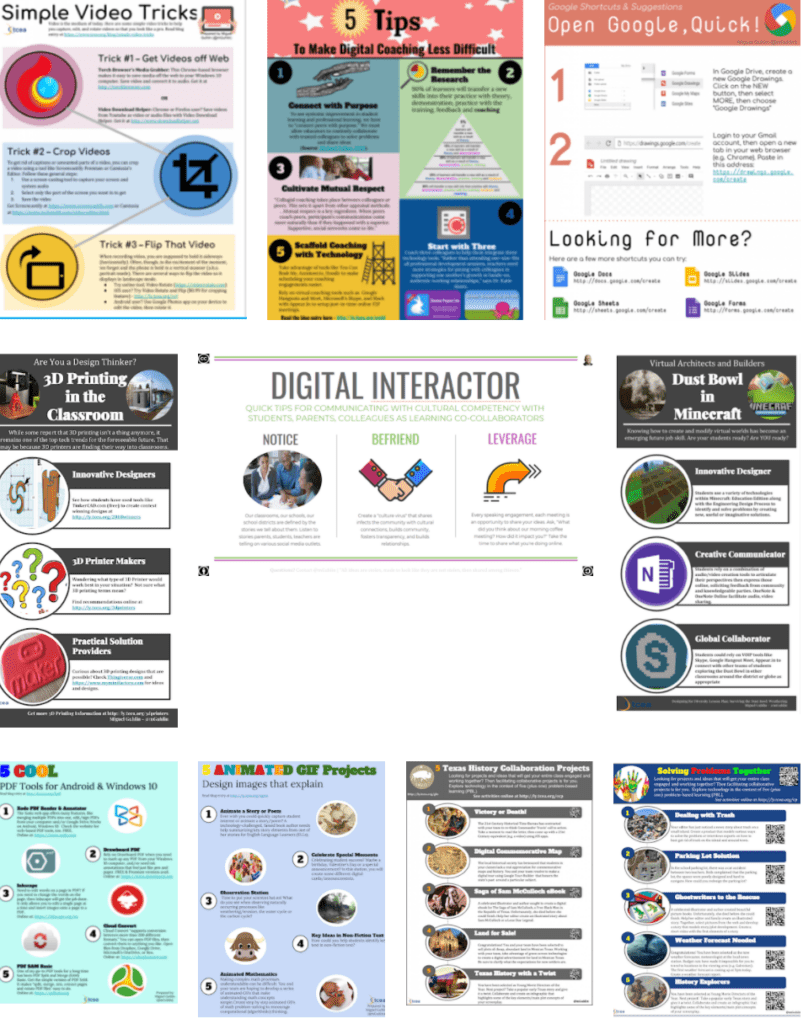 Wait, May I Have a Copy?
Get your own copy of all Google Slides/Drawings infographic templates at "Infographics Made Simple" site. You will be making your own adaptations of these templates fast. Check the IMS site for new creations.
Note to K-12 Students:

If you are a student using G Suite for Education, you may be unable to access the Google version of these infographics. That's because your school district has NOT allowed you to access resources outside of your school district domain. Get a teacher to access the resources here, then share them with you using your school district domain. OR, use a personal Gmail account.
Take-and-Make Infographics
"Infographics are a visual representation of data. When students create infographics, they are using information, visual, and technology literacies," says Kathy Schrock. As I developed the infographics shown above, I gained a deeper appreciation for how to place images, match colors, create shapes. A more important lesson included how to select information and data to share. What a valuable lesson for creatives (like our children) to learn.
If you are hesitant about starting with infographics, recognize that sites like Venngage, Piktochart, Canva, and Ease.ly have a rich library of templates you and your students can draw inspiration from. Get started with these free take-and-make infographics templates in Google Slides.
---
*This post was updated in September 2021.